Des faire-part aux cartes de remerciement, en passant par les menus, la papeterie occupe une place importante dans l'univers du mariage. Sur divers supports, elle annonce, raconte et décore votre noce selon la personnalité de votre couple, et ce, dans tous les tons et tous les styles ! Découvrez les éléments phares de la papeterie de mariage ainsi que les dernières tendances et nouveautés.
La papeterie de mariage de A… à Z
Vous connaissez tous les détails importants de votre mariage (date, heure, lieux de cérémonie et de réception). Il est alors grand temps d'annoncer l'heureuse nouvelle à vos chers convives en leur envoyant un joli faire-part de mariage ! Élément indispensable des préparatifs de mariage, le faire-part va être le premier aperçu du ton ou du thème que vous voulez donner à votre noce. Que vous vouliez des dorures, des illustrations, une touche vintage, champêtre ou rester sobre… vous pouvez personnaliser comme bon vous semble vos faire-part !
Avant de penser aux faire-part, vous pouvez tout d'abord envoyer un save the date à vos invités pour les inciter à planifier le plus tôt possible la date de votre mariage. Une chouette façon d'avoir le maximum d'invités le jour J notamment pendant les congés d'été ou bien de prévenir des proches vivant à l'autre bout du monde pour qu'ils organisent leur venue. Et bonne nouvelle, il existe tout un tas de chouettes modèles de save the date ! 
La décoration de table : menu, marque-place, marque-table
La déco est un élément indispensable pour une fête de mariage au top ! Et, sachez que la papeterie y contribue largement. Menus, marque-places, marque-tables, étiquettes cadeaux… n'hésitez pas à décliner votre papeterie aux couleurs ou au thème de votre réception. Vos invités apprécieront ces petites attentions !
Le livret de messe ou de cérémonie

 
Que vous optiez pour une cérémonie religieuse ou laïque, les petits livrets seront les bienvenus pour que vos proches puissent suivre le déroulé de votre cérémonie de mariage. Cela peut s'avérer être encore plus agréable lorsque ces livrets reprennent les codes de votre papeterie de mariage…
Les cartes de remerciement
Une fois votre mariage passé, il est important de remercier l'ensemble des participants. Une jolie carte de remerciement, accompagnée d'une photo du jour J, leur rappellera de très bons souvenirs !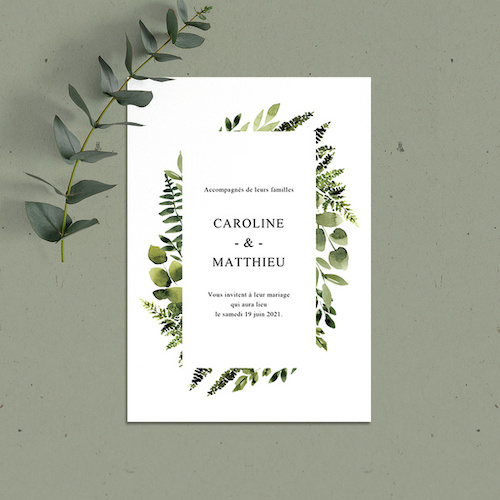 Quelles sont les dernières tendances papeterie pour un mariage ?
Cette année encore, la nature inspire la papeterie qui se veut champêtre, printanière et bucolique ! De jolies aquarelles, illustrations florales et fleurs séchées viennent joliment orner cartons d'invitations, menus et autres éléments de papeterie. 
Le less is more est très en vogue également, prônant le minimalisme, la sobriété et l'hypersimplicité. 
Côté couleur, l'originalité du terracotta arrive en tête mais on retrouve aussi la délicatesse du rose nude. Les finitions dorées ou cuivrées sont également de la partie ! 
Papier Kraft, lien raphia ou dentelle, ficelle bicolore, sceaux de cire, jeux de transparence, croquis  d'architecture, scènes champêtres, illustrations de couples, tampons, marquage à chaud sont très tendance et décorent à merveille la papeterie de mariage.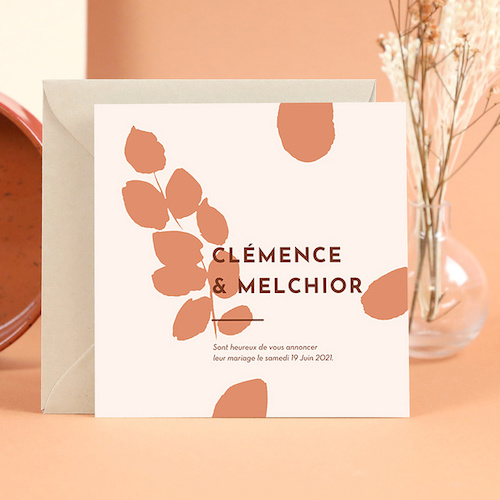 Click here to bookmark this