En cette période de pandémie du Coronavirus, vous êtes nombreux à être dans l'obligation de reporter la date de votre mariage. Courage, cela n'est que partie remise. La fête n'en sera que plus belle ! Mais alors, comment informer vos invités d'un tel report ? S'il est d'habitude coutume d'envoyer des Save the Date à ses convives pour leur annoncer la date du grand jour, en ce début d'année 2021, la tendance est aux « Change the Date » !  
Change the Date : LA solution pour prévenir vos convives du report de votre mariage !
Une fois que vous avez votre nouvelle date de mariage et que vos prestataires vous ont validé le report du jour J, vous allez devoir en informer vos invités. En cette période si particulière et inédite est apparu le « Change the Date », aussi appelé « Un-Save the Date ». 
Contactez le prestataire qui a réalisé vos faire-part de mariage, il vous proposera sûrement une invitation digitale (dans le même thème graphique que vos invitations originales) à envoyer par mail à vos invités. Certains vous proposeront de jolis petits cartons d'invitation, donnant les nouvelles informations, à expédier par voie postale. 
La plupart de ces professionnels de la papeterie pensent à votre budget mariage grâce à des réductions avantageuses pour toute commande de Change the Date et certains d'entre-eux offre même une version numérique gratuite à envoyer par mail. Aussi, de nombreux sites comme Etsy par exemple, vous offre un large choix de modèles. Pour les plus créatifs d'entre-vous, les DIY seront parfaits pour l'occasion ! Autre solution : un logiciel comme Canva vous permet de créer de jolies choses gratuitement en ayant plein d'inspiration toutes prêtes.
Quel texte écrire sur son Change the Date ?
Voici quelques idées de texte à écrire sur vos Change the Date : 
« Parce qu'il est impensable de fêter ce jour sans vous tous.
Nous avons choisi une nouvelle date pour célébrer, ensemble, notre union :
le 25.09.2021
Les lieux et horaires restent inchangés. »
« Oyé oyé les amis !
Vous nous connaissez bien et vous savez qu'on déteste faire comme tout le monde…
Aujourd'hui, nous avons décidé de repousser notre mariage à une date ultérieure !
Rendez-vous le 19 mars 2022, pour célébrer notre amour qui sera encore plus fort d'ici là » 
« Parce que notre mariage doit être un moment magique…
il aura finalement lieu le 28 août 2021.
Nous vous informerons dès que possible en cas de changement d'horaire. » 
« CHANGE THE DATE !
Vous allez devoir attendre encore un peu avant de trinquer à notre union
mais promis on se retrouve vite pour faire la fête.
Rendez-vous le 16 octobre 2021 ! » 
« Parce qu'il y a des jours que l'on ne peut pas fêter sans sa famille et ses amis…
Notre célébration de mariage est reportée au samedi 18 septembre 2021. » 
« Prénom 1 et Prénom 2
vont enfin pouvoir se marier le vendredi 9 octobre 2021 à 14h.
Le reste de la journée se déroulera comme prévu ! » 
« CHANGE THE DATE !
Rendez-vous le 27 novembre 2021.
Pour que la fête n'en sois que plus belle ! »
« Nous avons toujours prévu de nous dire OUI !
Rendez-vous le 25 juin 2022.
Prénom 1 et Prénom 2 »
…
Nos inspirations de Change the Date

 
Découvrez de belles inspirations de Change the Date pour annoncer la nouvelle date à vos convives de manière minimaliste, élégante ou humoristique !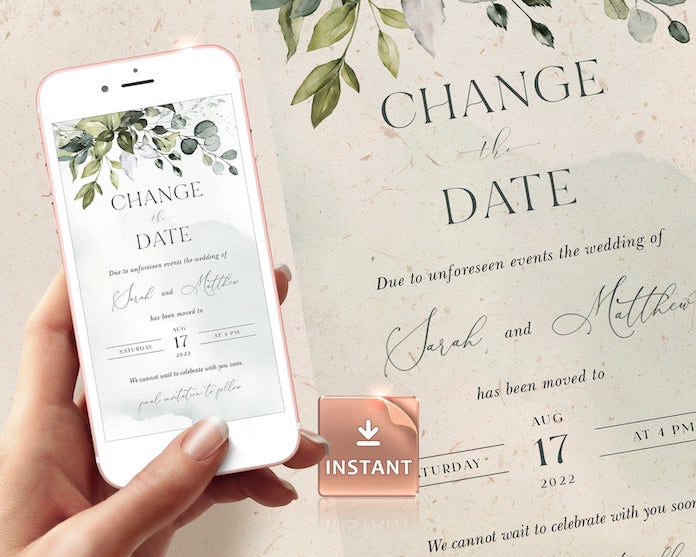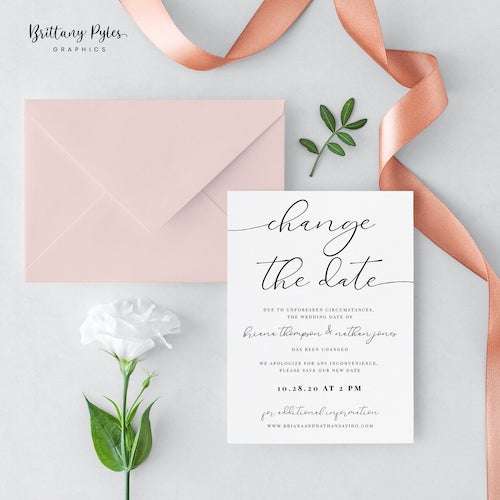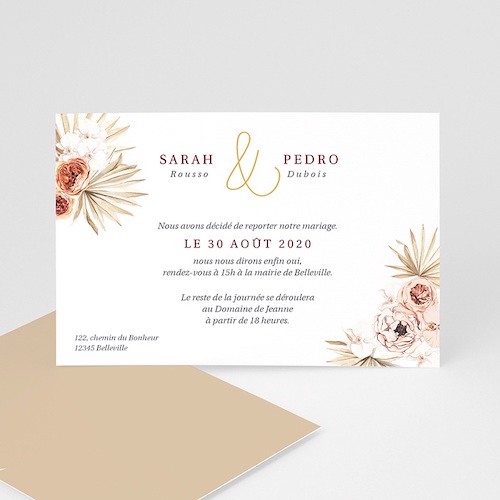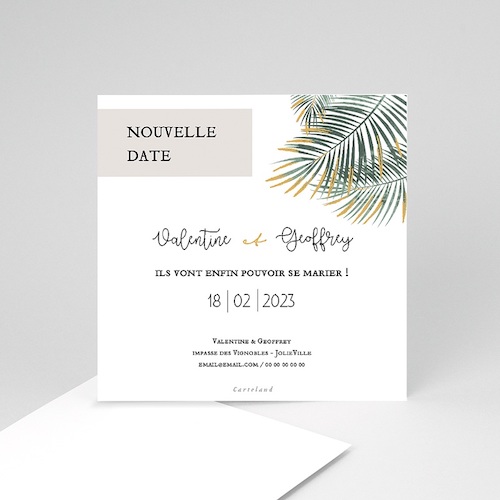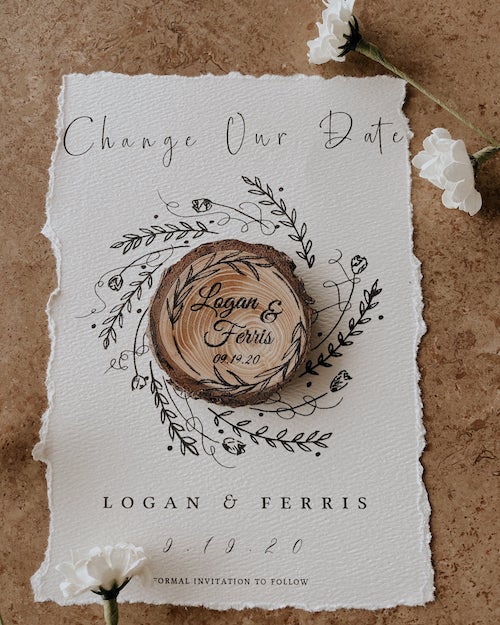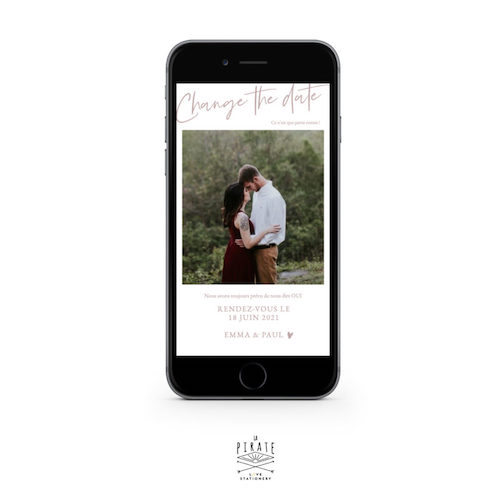 Click here to bookmark this