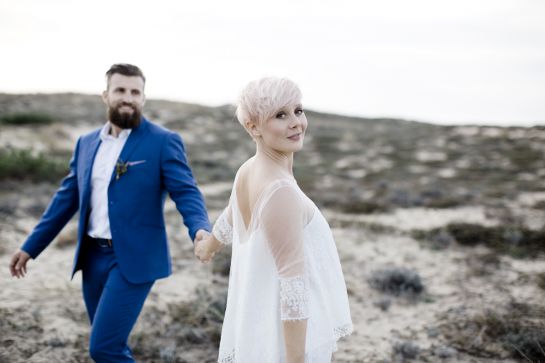 Marine et Fred représentent le couple 2.0 : ces amoureux se sont en effet rencontrés sur adopteunmec.com. Fred arrivait sur Bordeaux, Marine cherchait l'Unique sans trop y croire, et le hasard a bien fait les choses puisque, sur le point de supprimer son compte, elle a visité celui de Fred. Fiancés un an plus tard, ces deux Bordelais ont décidé de se dire oui au Pays basque à la ferme Inharria de Saint-Pée-sur-Nivelle, le 15 août 2015. Ambiance bohème, rétro et champêtre assurée.
Authencité à l'honneur
Le lieu de réception est une ancienne ferme basque laissée dans son jus par les propriétaires et agrémentée au fil des années de différents objets qu'ils chinent un peu partout. Marine et Fred ont absolument tenu à conserver l'esprit du lieu et à en faire la base de leur mariage tant cet endroit leur ressemblait dans le « joyeux bordel » et le mélange des genres qu'il retraduisait. Authenticité ! Les mariés voulaient des fleurs mais pas blanches, comme si elles venaient d'être « cueillies à la main », un super repas mais cuit à la broche, dans la tradition basque du zikiro, de la bonne musique mais sur vinyle. Aux oubliettes les bons vieux standard dancefloor !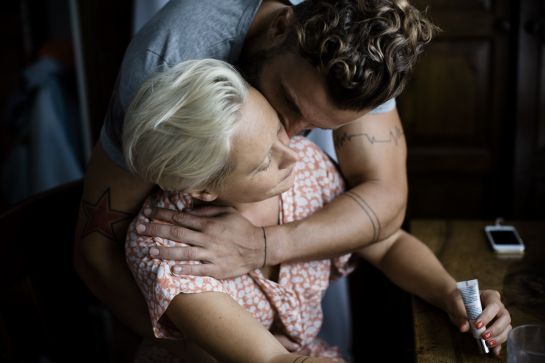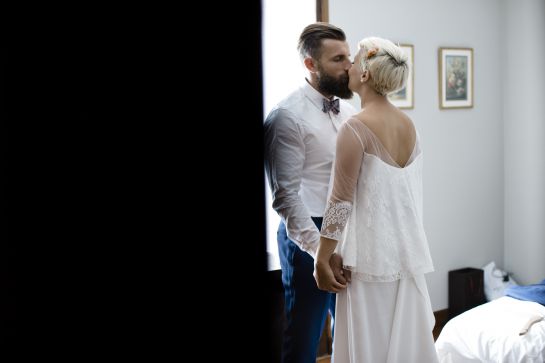 Pas de convention !
Le mariage civil a eu lieu la veille. Le samedi 15 août était donc la journée réservée à la cérémonie laïque prévue dans le jardin de la ferme Inharria, à la séance photo, puis au cocktail et au dîner. Au moment des préparatifs, il pleuvait à verse, et le moral de Marine était au plus bas. Pression maximale, affairement général, Marine a explosé ! Seule la présence de Fred l'apaisait. C'est donc le futur marié qui a aidé Marine à enfiler sa robe. Ce moment partagé ensemble, en dehors des conventions, est l'un des souvenirs les plus émouvants qu'ils gardent de cette journée.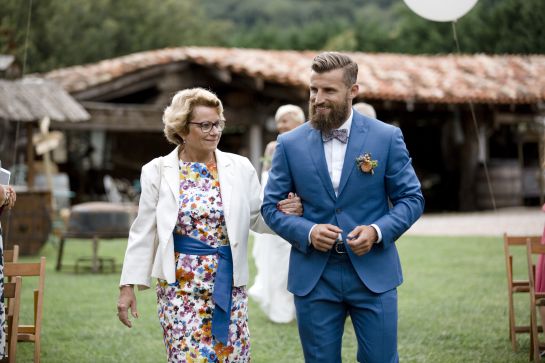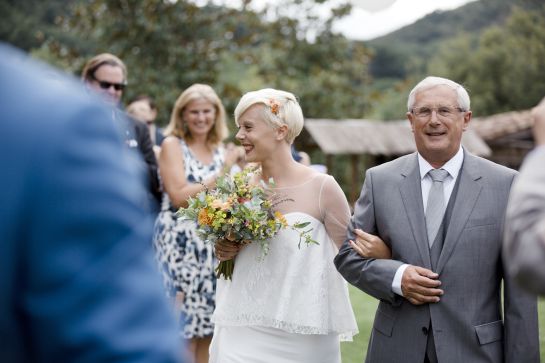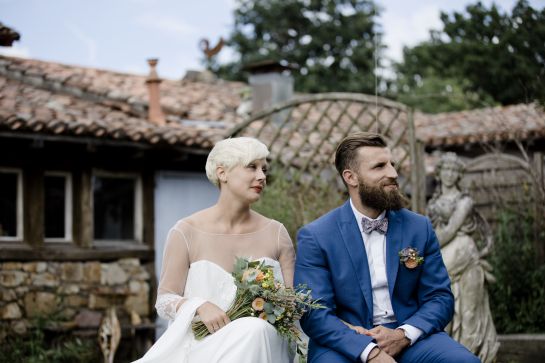 En toute simplicité
La décoration des tables a été pensée très simplement : des nappes blanches et un centre de table focalisé sur le vase aux fleurs coupées aux tons verts, corail et jaune et reliées par du raphia, entouré de deux bougies, l'une flottante et l'autre aromatisée à la citronnelle pour l'effet anti-moustiques. La décoration de la salle se suffisait à elle-même avec tous ces objets de récup' disposés partout. Des guirlandes de fanions de différents motifs et couleurs ont ajouté un petit côté festif et estival à l'ambiance générale. Tout comme les deux initiales du couple formées d'ampoules assemblées par Fred et surélevées au-dessus de la table des mariés, les guirlandes Edison pour l'effet guinguette décorant la piste de danse !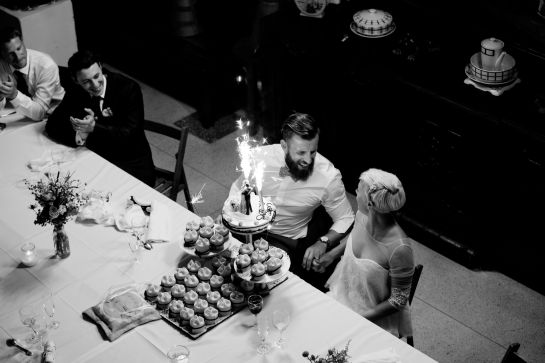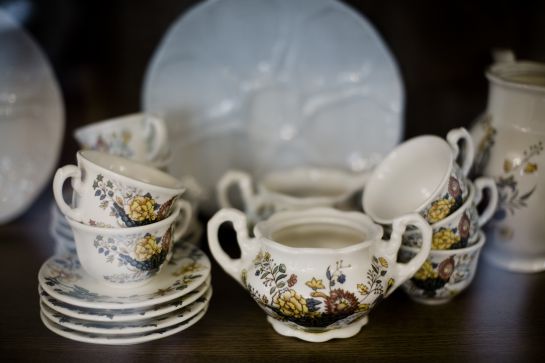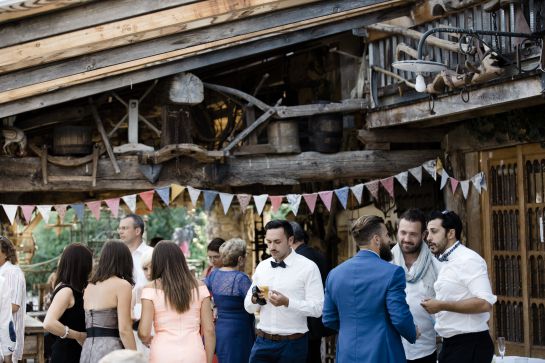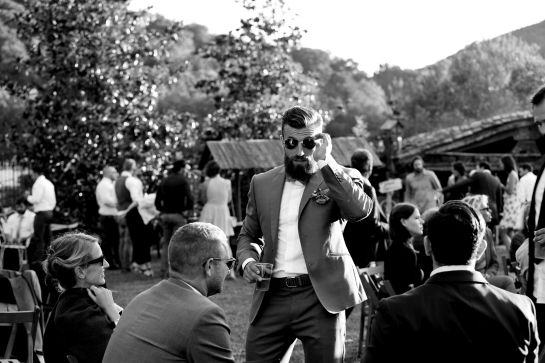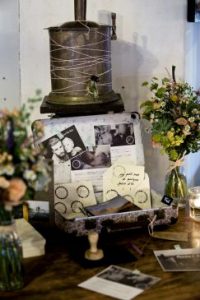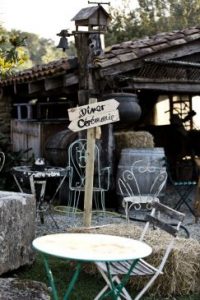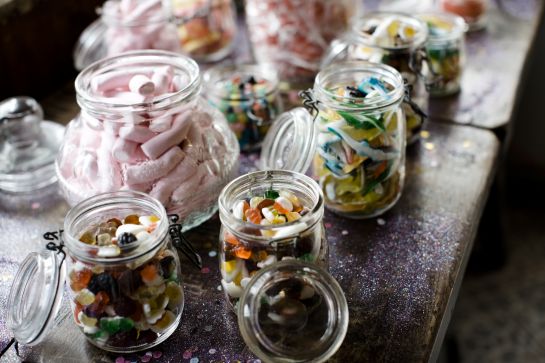 Le moment fort
Les mariés avaient prévu de terminer la cérémonie par la chanson « Home » de Edward Shape and The Magnetic Zeros. Fred jouant à la guitare et étant trop timide pour chanter, Marine a demandé à une amie d'assurer le lead vocal et à ses témoins, demoiselles d'honneur et amies proches, de l'accompagner aux chœurs. Un moment authentique, généreux et de partage. « Nous sommes tous heureux à ce moment-là. D'être là, ensemble », nous confie Marine.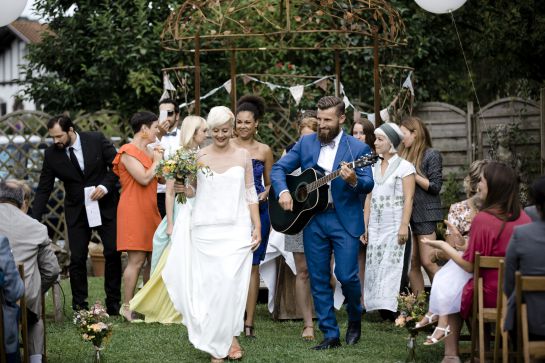 Les conseils des mariés
Marine et Fred ont réalisé les photos de couple trois mois après le mariage. Au départ, c'était un peu par hasard parce qu'il pleuvait des cordes au moment où ils devaient les faire le jour J. L'expérience est exceptionnelle. Parce que vous pouvez renfiler vos tenues. Parce que vous pouvez le faire dans un endroit que vous appréciez particulièrement. Parce que vous profitez pleinement de ce moment, en dehors de l'effervescence qui entoure le mariage, et la tête vide de toute autre chose.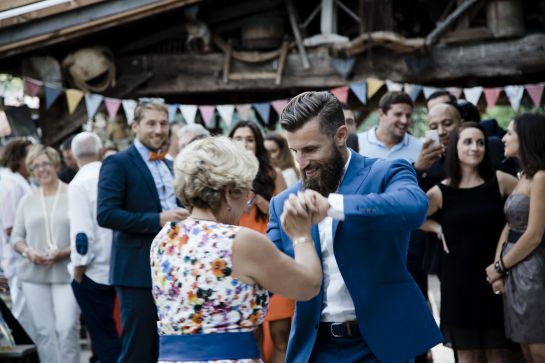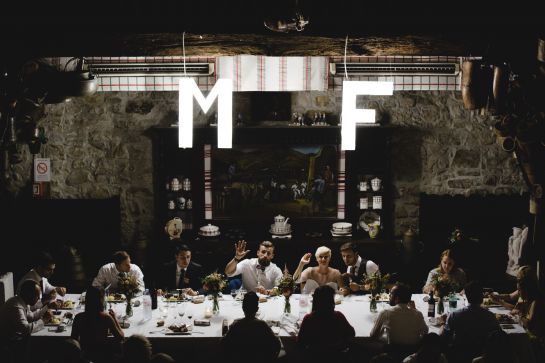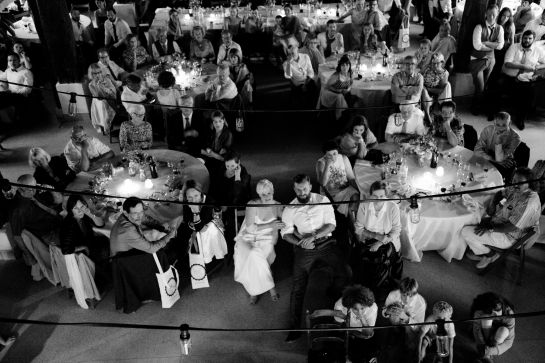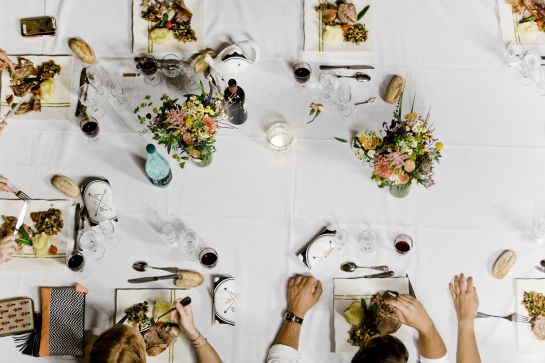 Côté bonnes adresses :
Photographe : Céline Marks
Robe de mariée : Rime Arodaky
Chaussures de la mariée : Patricia Blanchet et See by Chloé
Bijou de tête : création originale L'Atelier des Dames
Costume du marié : L'Apiéceur
Chaussures du marié : Kost
Ceinture : Faguo
Lieu : Ferme Inharria
Traiteur : Jean-Baptiste Daguerre du restaurant Le Fronton à Saint-Pée-sur-Nivelle
Fleuriste : Lady Brindille
Musique : Les Disquaires Weddings
Décoration : instemporel.fr
Location de matériel : Alokatu
Les photographies du mariage de Marine et Fred ont été réalisées par Céline Marks.
Click here to bookmark this